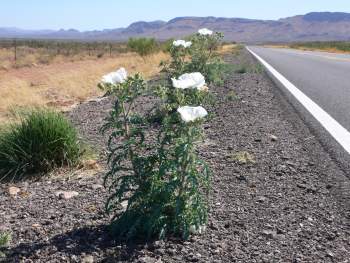 First Solo
ASV Visit May 2006
The cost of the British Airways direct flight to Phoenix was more expensive than taking a one-stop flight to Tucson so I shopped around for alternatives. As I was on my own it was a good opportunity to see how feasible it is to get to the Sky Village in one (long) day. The best flights appeared to be with American so I booked with them via Dallas. The flights worked out well and the break in Dallas to have a walk around was very welcome. I arrived in Tucson in the early evening, collected a hire car and drove to the Sky Village. The flights had been quite restful and I didn't have any problem with driving in the dark. However, I still recommend arriving at the Sky Village in daylight for a first visit as the lack of streetlights and isolated nature of the site make it difficult to find things after dark.
Desert in Bloom
The next day it was clear that the late spring flowers were in bloom. Large white trumpet-shaped flowers with dark green foliage had appeared around the house. These are a relative of deadly nightshade and the flowers close up as soon as the Sun falls on them. I was a little too late in the year to see the drifts of poppies that can fill the desert but there were still plenty of flowers to see.
Remote Super Nova Hunting
Before getting started on my own chores I went with Rick Beno to check Jack Newton's super-nova hunting telescopes. Jack operates these from his home in Canada but Rick keeps an eye on them to make sure the sliding roof doesn't get stuck and cables don't snag. Jack is part of a successful SN hunting consortium.
Observing Base
Two Canadian astronomers asked me to put down a concrete base for their telescopes so they could bring their own equipment and do some imaging. They offered to build a windscreen around it if I provided the concrete. Despite making arrangements for it to be done while I was away, it hadn't been started when I arrived. This is fairly usual in this laid-back part of the West so I wasn't too surprised. After a certain amount of chasing around the concrete was provided as part of a load for Jim Algots' house and was duly laid.
Landscaping
Although the house is very attractive and comfortable inside, it still looked a bit bare around the outside. The aim has been to allow it to blend in with the desert and not to have a garden as we would recognise one in England. However, it needed something to give it a more finished appearance. I spent several hours each morning before the Sun climbed too high collecting stones and arranging them around the wall bottoms and to protect the septic covers from being driven over in the dark
This work was quite therapeutic and enjoyable provided it was done in the relative cool at first light.
The Moving Sunrise
Being up in time to work from first light meant that I enjoyed the sunrise each morning and I took the opportunity to photograph it each day. I know the point at which the sun rises moves throughout the year but this was the first time I had followed its progress over a period of a few days. I was surprised to see just how noticeable the movement was.
Gibbous Moon
The main aim of the trip had been to do some jobs around the house so I hadn't timed it for dark of Moon. In fact, the Moon was full whilst I was there but this brings its own beauty and the desert by moonlight with coyotes calling and crickets singing has a magic all of its own. As always, the end of the visit came all too soon and I had to come home. Some jobs had been completed but there are plenty more to justify coming back again as soon as possible.
Neil Parker