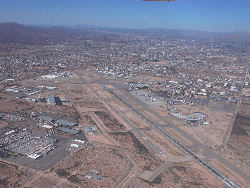 Via Tucson
Tucson has the nearest international airport and is two and a half to three hours drive from the Sky Village. Frequent flights link to most major hubs in the USA making it easy to reach from overseas. Car hire is available at the airport and can be prebooked.
On leaving the airport join highway I-10 heading east. This will take you past Benson, Willcox and San Simon. Shortly after reaching the New Mexico border turn right at Road Forks onto highway 80 and head south towards Douglas.
Approaching Rodeo
As you approach the town of Rodeo you will see a right turn signposted for Portal. Take this right turn and follow the road to the outskirts of Portal. Just before reaching Portal look for the Foothills Road on your right. Turn right onto Foothills Road which is initially metalled then becomes a dirt road. The Sky Village is one mile along this road.
Turn right onto Eagle Path and follow it almost to the end. Turn left onto Newton Way and the Green Witch house is currently the first on your right. It has a pitched green roof.
Dirt roads are quite common in this part of America and locals use them regularly in ordinary two-wheel-drive cars. Drive slowly for comfort and to keep the dust down.
Via Phoenix
At the time of writing British Airways operate a daily flight direct from London Heathrow to Phoenix. It is a comfortable flight with convenient times. Departing around lunchtime it arrives in Phoenix at teatime. By the time you clear customs and immigration, collect a hire car and check in to a nearby hotel, it is time for dinner and an early night.
The next morning you can make an early start and either get to the Sky Village for lunch or take in some sight-seeing on the way and arrive early in the evening. We don't recommend arriving after dark until you find your way around as the village is very dark.
The flight back leaves in the early evening and we find we can fit in some shopping or a tourist attraction en route to the airport. The flight is overnight arriving around lunchtime back at Heathrow.
From Tucson you take Highway I-10 heading south to Tucson. Stay on I-10 past Tucson then follow the directions given above.
Via El Paso
I've used this route twice; it has more internal connecting flights than Tucson. The drive to the Sky Village is slightly longer than from Tucson (3.5 hours).
Join I-10 heading west then turn left at Road Forks just before reaching the New Mexico border. This puts you on Highway 80 then follow the detailed insructions above, labelled 'Approaching Rodeo'.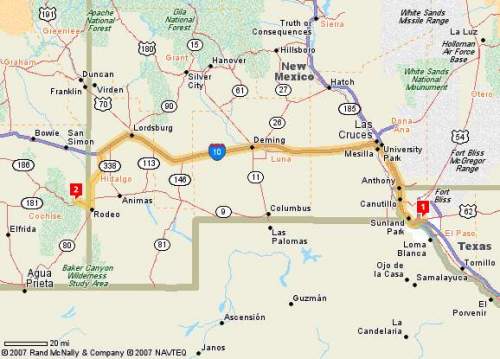 This map was provided by Rand McNally. I found their web site one of the best for producing road maps and route directions. Try their site at www.randmcnally.com with 'El Paso, Tx' as the starting address and 'Portal Az' as the destination city.