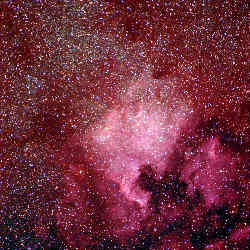 Beautiful Skies
The ASV was established by astronomers for astronomers and is being developed to maintain the quality of the dark, clear skies that first attracted Jack Newton to the Portal area. Consequently the pristine nature of the skies can be enjoyed by all visitors. This image of the North American Nebula was taken by Jack using a 7-inch refractor. The original image shows a wealth of subtle detail and indicates just how dark the sky can be.
If you are used to seeing stars disappear into the murk near your horizon you will be amazed to see the Milky Way extend from horizon to horizon. And the zodiacal light just after sunset is bright and obvious. Gegenschein can also be seen on clear moonless nights.
Visitors to the Sky Village will find that everyone is very friendly and it is well worthwhile calling on the neighbours to introduce yourself.
Telescopes for Green Witch Visitors
The Green Witch house is equipped with a 12-inch Intelliscope. This is a Dobsonian telescope with digital setting circles making it easy to use, even for beginners. It is kept in the study and can be lifted outside and used in the open.
There is a concrete pad surrounded by a wind break that was installed for a Canadian astronomer who now lives next door. The wind screen has been refurbished this yesr (2016) and provides a secure area in which you can set up the house telescope or your own if you prefer.
The NexStar 6 SE is a 6-inch Schmidt-Cassegrain Telescope with full GOTO computer control. It is easy to handle and set up and is usually kept in the house. Just lift it outside, set it up and enjoy.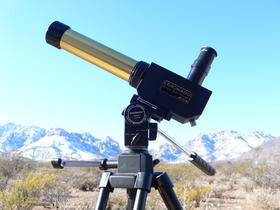 There is also a Coronado PST for observing the Sun in H-alpha light. A basic set of quality eyepieces is provided but visitors are welcome to bring their own favourites if they prefer.
One of the delights of the dark skies is to browse them with a pair of binoculars.There is a pair of 8x56 Celestron binoculars for you to use. These can also be used for bird watching but do not focus very close and we suggest you bring your own favourite pair.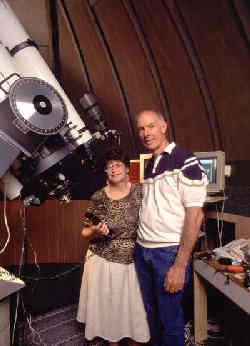 Friendly Neighbours
Jack Newton and Rick Beno both have 16-inch Meade LX200 telescopes installed in domes attached to their houses. They offer master classes in observing and astrophotography and are always happy to help fellow astronomers. Jack is in residence form October to April but Rick is there all year round.
This picture shows Jack and Alice Newton in their observatory at the ASV.