Arizona Sky Village
Kitt Peak Gallery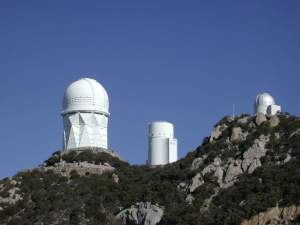 Mayall 4-metre Telescope Building
One of the first sights to greet visitors to Kitt Peak is the impressive building for the 4-metre Mayall Telescope, see here from the road below.
McMath-Pierce Solar Telescope
Originally called the McMath Telescope, the McMath-Pierce Telescope is still he world's largest solar telescope and has the largest clear aperture (1.6m) of any optical telescope. It is on one of the self-guided tour routes so you can visit it and gain access to parts of the interior by yourself.
Inside the McMath-Pierce Telescope
This view is taken from one of the acess points open to self-guided tours. It is looking up the telescope towards the heliostat at the top.
McMath-Pierce Telescope from above
This view is courtesy of NOAO/AURA/NSF and is taken from their web site. It shows the heliostat from above.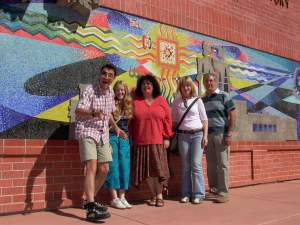 Outside the Kitt Peak Visitor Centre
About to start our self-guided tour, we took a team photo to record the effects of altitude on some members of the party.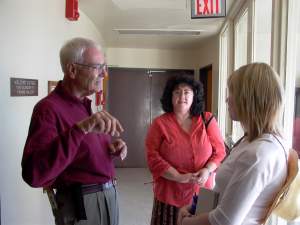 Kitt Peak Docent explains the finer points of the Mayall Telescope
As well as self-guided tours there are guided tours led by volunteers called 'docents', a term you will encounter at many US attractions.
View from the Mayall Telescope
You can reach the telescope level by climbing stairs or riding in a very slow lift. Either way, it is worth it for the view as well as seeing the telescope itself.
Looking down on the mountain road
Kitt Peak is reached by a steep and winding mountain road that is maintained in good condition. It is an easy drive from Tucson but care must be exercised when driving up and down the mountain.
WIYN Telescope Control Room
One of my former colleagues at the Royal Greenwich Observatory, Diane Harmer, was kind enough to show us behind the scenes at the WIYN Telescope. This view shows the control room where local astronomers conduct their observations. The telescope can also be operated remotely.