Arizona Sky Village
Cave Creek Gallery
Cave Creek Canyon from The Desert
This picture was taken in October when the desert plants had come to life after the Summer rains. The entrance to the canyon is through the gap in the foreground mountains.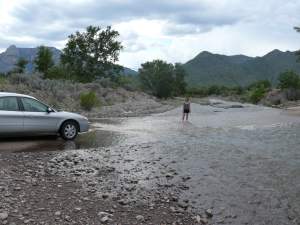 Cave Creek on Foothills Road
For most of the year Cave Creek is dry where it crosses Foothills Road near the sky village but this photo was taken in August during the Summer monsoon season. August rains tend to be short and heavy, often leaving the sky clear afterwards. Despite torrential rain on this visit we were able to observe most nights and enjoy hot sunny days as well.
Ultralight over Cave Creek
This shot from the wing of a Sky Gypsy ultralight shows the line of Cave Creek where it enters the desert. The dark green line shows heavy vegetation where it leaves the canyon and in the foreground the water can be seen.
Riparian Scene along Cave Creek
Within the canyon Cave Creek provides a riparian habitat where broad-leaf trees flourish and a wide variety of birds and animals can be seen.
Coati Rock
Impressive rock faces line the canyon sides. We call this Coati Rock because it marks the spot where we saw a family group of female coati and their young close to the roadside.
View from Vista Point in Winter
A short drive into the canyon brings you to Vista Point where you can pull off the road and walk a couple of hundred yards up to a view point complete with free telescope. It's a good place to get a first feel for the layount of the canyon and to see the different colours at different times of year. The rock face in the centre divides the canyon into north and south forks.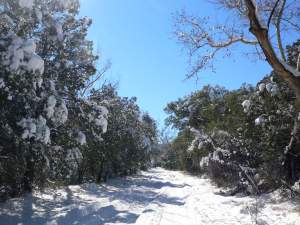 Snow in Cave Creek Canyon
In January 2007 six inches of snow fell overnight transforming the desert and canyon into a winter wonderland. Birds and animals became bolder in search of food and were easier to observe.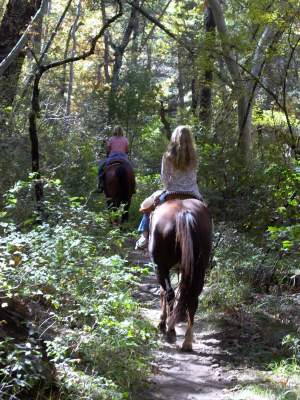 Riding in Cave Creek Canyon
The south fork of Cave Creek makes a great place to explore, either on foot or horse-back. The scenery is lovely and the dappled shade is a welcome relief from the hot sun. Taken in November the photo shows how warm it can be, even as winter approaches.
Autumn Colours in Cave Creek Canyon
Also taken in the south fork, this photo shows maple trees in their autumn colours. From the air it is easy to pick out the line of the creek which is marked by these autumn colours set against a green background of pine trees.
Portal Post Office anf Library
Portal is the 'town' that nestles in the entrance to Cave Creek Canyon, but it's not a town as we think of them. There are few buildings to be seen and the Post Office and Library in this picture are typical of the majority. It adds to the charm of the canyon and reminds us of a bygone era.