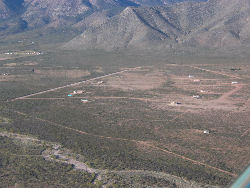 Where is the Arizona Sky Village?
Nestled in the foothills of the Chiricahua Mountains, at the mouth of Cave Creek Canyon in beautiful Portal, Arizona the Arizona Sky Village is located in one of the darkest deep-sky sites in North America.
It is a five-minute drive from Portal, one of the top birding destinations in North America. Tucson with its international airport is about two and a half hours away. Douglas, on the mexican border, is an hour away.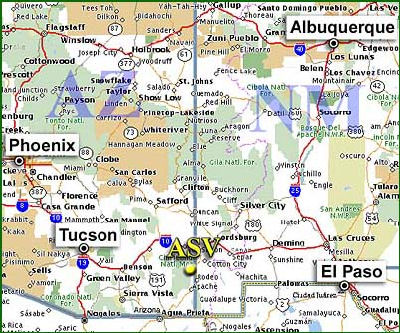 Location Map
Located approximately 2½ hours southeast of Tucson, off the I-10 in beautiful Portal, Arizona, Arizona Sky Village enjoys an exceptional location with a comfortable year-round climate and easy accessibility to an abundance of activities.
Satellite image of the USA
Wide-angle satellite image. Note the line of mountains showing green that run from Mexico to Canada alongside the ASV. They form an important migratory route, bringing a wide variety of birds to Portal.
Satellite Image of Arizona and New Mexico
A closer satellite shot shows how close the ASV is to the continental divide. The wiggly yellow line follows the Rio Grande which can be seen flowing eastwards to the Gulf of Mexico.
Closer Satellite Image
The vertical line is the Arizona-New Mexico border. The horizontal line is the international border between the USA and Mexico; it is about an hour's drive from the ASV.
Satellite Image of Cave Creek Canyon
Notice how the ASV sits on the edge of the desert at the foot of the mountains. This gives birders the opportunity to see all the desert birds and the mountain birds within a small area, as well as the migratory species noted above. No wonder it is considered to be one of the best birding sites in North America.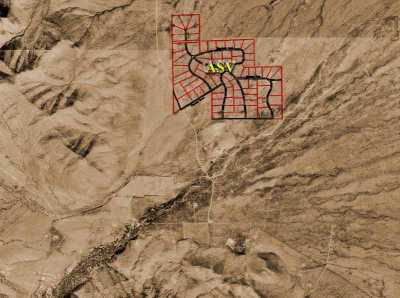 Satellite Image of Cave Creek Canyon and its runoff into the Desert
Cave Creek takes rain water and melting snow into the desert where it refills the aquifers that supply the village with water. Green Witch's house is on the eastern side of the village with superb views straight into Cave Creek Canyon.
These images make the mountains look rather brown. In fact they are heavily wooded and very green.