Introduction
Although the ASV was set up with astronomy in mind it also offers a wealth of other attractions for anyone with a love of nature and the outdoors.
Bird-watching, walking, trail riding, flying, the old Wild West are all available right on the doorstep. And if you want to travel further afield there are several professional observatories near Tucson with visitor centres, including Kitt Peak. Old Tucson and Tombstone both offer cowboy-themed entertainment based on films as well as real life. The Desert Museum is a great place to see wildlife that is otherwise hard to find. Minute-man missile silos, the Boneyard at Davis Monthan Air Force base and the Pima Air Museum are just a few of the attractions awaiting air and space enthusiasts.
And for those with an interest in shopping there are great malls in Tucson and Phoenix where prices are considerably cheaper than in the UK. Don't forget to take an empty suit-case or, better still, make sure you allow for buying one there.
Did I mention the flowers? The desert in bloom just has to be seen to be believed with vast expanses of poppies and other meadow flowers carpeting the prairie. These occur for a short time but all year round it's possible to see flowers and exotic plants at different altitudes in the mountains.
The descriptions below will give you an idea of what to expect but there's no substitute for being there and experiencing it for yourself.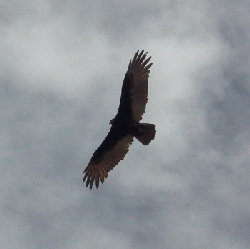 Bird Watching
Mountain birds, desert birds and migratory birds make this area one of the best bird-watching destinations in North America.
Golden Eagles soar high in the mountains; Elegant Trogons and Mexican Chickadees accompany walkers in the canyons; Road Runners dash across the desert and Humming Birds buzz around your ears like bumble bees.
Local guides are available to lead walking tours or to advise you on where to look for particlular species. The bird-feeding station between the Sky Village and Portal is a great place to start and many species unfamiliar to European visitors will soon be seen.
Walking
The Chiricahua Mountains offer a wide range of walks, from gentle strolls in the valley bottoms to more strenuous walks over higher ground, there is something for everyone.
There are several camp sites and picnic areas in the mountains that are accessible by road and these make excellent starting points for walking. You can soon leave all trace of civilisation behind and enjoy the countryside as it was when Cochise roamed the land.
A primitive road which is closed in Winter will take you over the mountains to the Chiricahua National Park with its stunning rock formations and extensive walking routes. The National Park can also be reached by driving round the mountains.
Trail Riding
Trail riding is a great way to see the scenery. Don your cowboy hat to keep off the Sun, mount up and head for the hills.
Arrangements for riding have changed since my last visit so please talk to locals for up-to-date information. Debbie, the housekeeper is your best starting place. I took my daughter Heather on a guided long ride in Cave Creek Canyon and despite the rough terrain and our inexperience we felt safe and comfortable throughout. Western style riding is much easier than english, and the saddles have a large pommel to hang onto.
Flying
Rodeo Airport is a ten-minute drive from the Sky Village and is the home of Rick and Cleo Chamberlain. They are both flying instructors and operate a two-seat Cessna 152 and a six-seat Cessna 307. Rick is also a qualified mechanic and runs a maintenance service.
They are very friendly and will take you on a sight-seeing tour of the area in the 307 which will carry up to five passengers. If you would like to see what it's like to be a pilot then Cleo will take you up for a trial flight in the 152. If you have a US licence then you can hire the 152 subject to a check flight.
Prices are very reasonable. If you would like to know more please visit their website at http://www.chamberlainaviation.com/ or read our visit reports which include the flying we have done with them.
The Old Wild West
If you keep your eyes open while walking around the village you are bound to find pottery shards left behind by Indian tribes who camped in this area. These tangible souvenirs are a reminder that this is Apache country where Cochise and Geronimo amongst others lived out their lives.
Abundant game, fresh water and shelter attracted the early settlers on their way to California and inevitably there were conflicts with the native americans. Minerals in the mountains also attracted prospectors and miners who added to the problem. Then the cattle moved in and white settlers begain to make their homes here. Local names give clues to the way that life was led. Rodeo was a major railhead where cattle were rounded up to be loaded onto trains. Today the railway line has gone and Rodeo is a small sleepy town, but as you drive south towards Mexico it is easy to see where the line ran.
Rustler's Park was a hidden clearing in the mountains where rustlers used to drive the cattle they had stolen. Cochise Head is a rock formation in the mountains that resembles the facial profile of a sleeping indian. On the way to Mexico there is a monument marking the spot where Geronimo surrendered.
In the immediate vicinity of the Sky Village cowboy and indian artefacts are just part of the landscape but on the other side of the mountains lies Tomstone 'the town too tough to die' . This is a major tourist attraction where cars have replaced horses but little else seems to have changed. It is great fun to visit and there are several shows or shoot-outs staged every day. Take time to visit Boot Hill Cemetary and be reminded of the story of Wyatt Earp, Doc Holiday, the Clancy Brothers and Big Nose Kate.