Witches Abroad
ASV Visit 23rd October 2005 to 5th November 2005
Lucy, Heather and I travelled to the sky village for its first annual star party sponsored by Meade Instruments. We attended the RGO Society* meeting at Herstmonceux Castle on the day before our flight so decided to stay overnight in a hotel at Heathrow. We chose a package that gave us up to 15 days free parking; a much cheaper option than the long-term car park
(* The RGO Society is for former staff and families of the Royal Greenwich Observatory. For further details please see http://homepage.ntlworld.com/rogerwood/RGOS/ )
We flew British Airways again, direct to Phoenix, and enjoyed superb views of Greenland, Hudson's Bay, the frozen wastes of northern Canada and the Grand Canyon. The flight arrived on time and we quickly cleared customs and immigration. Sarah Reed, a staff journalist for Sky at Night magazine, travelled with us and we all stayed our first night at Days Inn near the airport.
Heather is a great fan of Terry Pratchett and was reading one of his books on the plane. It turned out to be 'Witches Abroad' which seemed appropriate, hence the title of this report.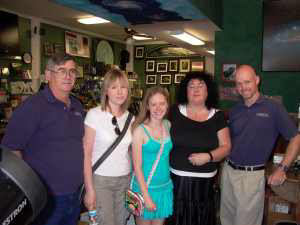 Starizona
The next day we drove to Tucson and called in at Starizona to say hello to our friends there and to pick up a few astronomy bits. After that we went shopping in the Tucson Mall before meeting Charles and Diana Harmer for lunch. I used to work with them at the RGO before they both moved out to Tucson to work at Kitt Peak. We had a very enjoyable lunch at the Red Robin restaurant and arranged to meet Di at Kitt Peak later in the week.
After more shopping we travelled to the sky village arriving there about 8 pm. En route we stopped at 'The Thing' for a drink. The Thing is a service area between the Dragoon Mountains and Willcox, and we often stop there. Heather and I paid the small admission fee to see what 'the thing' is. It proved to be quite interesting but I won't spoil the surprise in case you visit it yourself.
Sarah and Heather found a machine that told you for 25 cents who you would marry. Heather it seems will have a tall, dark, handsome and friendly rich chap. Sarah on the other hand will have a short, bald, unstable and unsuccessful poor chap. We kept our eyes open for the rest of the week but didn't find anyone to fit the bill.
Cave Creek Canyon
The next morning we took Sarah into Cave Creek to get a feel for the scenery then had breakfast at Portal Peak Café. We decided to drive to Douglas for groceries and to show Sarah a border town. On the way back we were stopped by the border patrol as we crossed from New Mexico into Arizona. This is unusual although we encountered the patrols several times in the following days.
Master Class with Jack Newton
In the evening we took Sarah to Jack Newton's observatory, which is on the next plot to ours, for a master class in astro-imaging. Some of her results have now been published in Sky at Night magazine along with the article she wrote.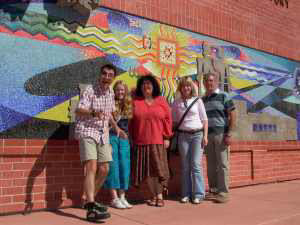 Kitt Peak
On Thursday we travelled to Tucson to collect Anton Vamplew, the Blue Peter astronomer, before travelling on to Kitt Peak. Sarah wanted to experience the visitor centre and the tours that members of the public can take. We visited the McMath Solar Telescope before joining a guided tour of the 4m Mayall Telescope.
Mayall Telescope
Di Harmer then met us and took us behind the scenes at the WIYN Telescope. The first time I saw this telescope it was still being commissioned in Tucson. This was shortly before we started Project Gemini and Larry Stepp was working on the mirror support system. Larry subsequently became a good friend as we worked on the Gemini telescopes.
The WIYN Telescope was being prepared for a remote observing session while we were there. The astronomer was on the east coast of America and was controlling the observation over the Internet. Local staff were preparing the instrumentation and checking that everything was ready.
David Levy and the Jarnac Observatory
After leaving Kitt Peak we grabbed a hasty meal then headed for David Levy's home where David and Wendee entertained us to an observing session at the Jarnac Observatory. Although David has quite a good site light pollution is steadily getting worse and he has decided to move his operation to the sky village.
Our 16-inch Cape Newise arrives
The next day, Friday, Peter Wise arrived with 8-inch and 16-inch Newise Telescopes which we planned to install at our house. Sarah went back to Jack's to continue her master class with some solar observing and more image processing. I took the opportunity to visit Valley Telecom to sort out our phone line and to look for some horse riding and flying for Sarah.
Close to the sky village is an RV park called Caballos de las Estrellas (horses of the stars) with a stable with horses for hire. Unfortunately, the owner, Linda Richmond, was going to be barrel racing in a rodeo the next day so couldn't take Sarah riding before the end of her trip. I arranged for Heather and me to go the following week.
Rick and Cleo Chambers were at home at Rodeo airport so I booked a sight-seeing flight for the next morning before heading back for the Star Party.
The Star Party
Scott Roberts and another member of Meade staff brought a large lorry from California containing marquees, stage, sound system, satellite link, chairs, tables and even some telescopes which they used to set up the party in the desert. They did a great job.
While we ate cowboy fare from the barbeque Kip Callahan entertained us with her guitar and western songs. Once it was dark enough there were illustrated talks (it's hard to get a tent dark enough for a slide show during the day) followed by observing under inky black skies filled with a myriad of stars. Anton gave a super presentation with some excellent pictures of beautiful scenery and British night skies. He kept the audience enthralled and had them in stitches at times.
The picture shows Venus just after sunset.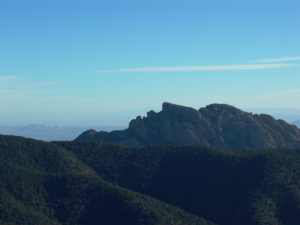 Flying with Chamberlain Aviation
Early on Saturday morning Heather, Sarah and I reported to Rick at Rodeo airport and boarded his Cessna 207 for a sight-seeing tour. We put Sarah in front so she could try her hand at flying while I sat behind Rick to take photos through the open window.
We started by overflying the sky village a few times for photos then headed to Fort Bowie at the northern end of the Chiricahuas. I had ridden to the fort on an earlier trip so it was interesting to see it from the air.
We then flew over the Chiricahua National Monument which is a large area covered in rock pillars, spectacular from the air and even more impressive from the ground. Following the western edge of the mountains we enjoyed a good view of Cochise Head which is a group of rocks resembling the facial profile of a sleeping Indian.
Pilot Sarah
After inspecting a forest fire Rick took us into Cave Creek Canyon where the autumn colours of the deciduous trees stood out along the line of the creek. Away from the creek the trees are mostly evergreen. We flew below the level of the peaks as we made our way down the canyon with Sarah at the controls. The views were stunning.
On leaving the canyon we flew over Norrick Peak where telescopes belonging to sky village residents are being installed. Norrick Peak is at the same altitude as Kitt Peak but doesn't suffer from the same light pollution and looks like becoming a first-class amateur observatory site.
Back on the ground
Rick is a very competent instructor and we felt quite at ease as Sarah took us back to the airport. Rick took over for the landing and we touched down safely about an hour after taking off.
At the Roping Arena
We were still hoping that some sort of riding could be laid on for Sarah so called on Gene Turner to see if he had been able to arrange anything. He took us to a steer roping arena on a nearby ranch where local cowboys were practising their rodeo skills. When they broke for lunch they allowed Heather and Sarah to mount a couple of horses and ride round the arena. Sarah got a photo of herself on a horse and we enjoyed the steer roping.
The afternoon was given over to more photography followed by another evening at the star party.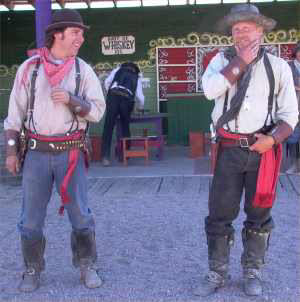 Tombstone
On Sunday it was time for Sarah to leave so I drove her to Phoenix airport via Tombstone, the town 'too tough to die'. It is the site of Boot Hill and the OK Corral made famous by Wyatt Earp, Doc Holiday and the Clancy Brothers amongst others. Modern Tombstone has many areas that haven't changed much in a hundred years and is great fun to visit. We took in the cowboy show at Helldorado before having lunch at Big Nose Kate's Saloon, followed by a ride in a covered wagon. We did this as part of the research for Sarah's article which was scheduled for the January 2006 edition of Sky at Night magazine.
From Tombstone we went directly to Phoenix airport where Sarah caught the British Airways flight to Heathrow. I drove back to the sky village, stopping for coffee in San Simon.
Trail Riding in Cave Creek Canyon
On Monday morning Heather and I met Linda Richmond at Portal Store then travelled into Cave Creek Canyon in her pickup and horse trailer. We parked in South Fork, saddled the horses then set off for a ride up the creek. Linda was on her lovely rodeo horse called Cowgirl. Mine was an ex-racing gelding called Betsy. Apparently his track name was 'Up Your Bets' which evolved to Betsy but he didn't seem to have a complex and was very well behaved.
Maple Camp
The track crossed the stream bed many times but the sure-footed horses coped well with steep banks and rocky surfaces. Steep rock faces towering over us, mixtures of evergreen and deciduous trees lit up by bright sunlight combined to produce the most beautiful sites. Our destination was Maple Camp where the autumn colours were absolutely stunning.
The ride lasted about four hours and we arrived home tired but happy by mid afternoon. Back home in England the staff at Green Witch were holding our annual Halloween Star Party but we went to a party at Rick and Vicky's house. As it was Halloween we had brought fancy dress with a spare set for Peter Wise.
Kartchner Caverns
The pace was beginning to tell by Tuesday morning so we had a lie-in and the only note I made all day was 'brunch at Portal'. But in the afternoon we drove to Kartchner Caverns just south of Benson. These were discovered by two local caving enthusiasts who came across a small opening whilst searching for new caves. Their search was centred in an area where the vegetation indicated underlying limestone rock.
They had to struggle through tight openings and crawl along very low tunnels to get into the main part of the cave. Today you walk in through airlocks which are part of a system designed to maintain the caves in the condition they were found in and to allow the natural growth of limestone features to continue.
There are two tours taking in the two parts of the cave system and we chose the shorter one. The cave contains some wonderful formations although we weren't too keen on the guide whose style was patronising.
Big Nose Kate's Saloon in Tombstone
On Wednesday I took Heather and Lucy to Tombstone. We drove over the Chiricahuas on dirt roads to get there then had an enjoyable time sampling the usual tourist fare. Our return journey was on normal roads via Douglas and a visit to Dairy Queen for enormous ice-creams.
All Good Things Come to an End
Thursday was taken up with domestic chores to do with our house such as ordering broadband to be installed and discussing decking and the observatory with the builders. Dinner was at the Rodeo Tavern with a host of friends from the sky village and the local area.
Friday was the day we had to leave so we headed back to Tucson for yet more shopping and another visit to Starizona before returning to Phoenix for the BA flight. Another comfortable flight with a tailwind brought us back to Heathrow early. Unfortunately there was a queue for gates at the terminal so we were back on schedule when the plane finally parked and we could disembark. We took a taxi back to the hotel where our car was waiting, then drove home in time for tea.
This was my fifth visit to the sky village, Lucy's second and Heather's first. We all enjoyed it immensely and the skies were superb. I haven't mentioned the astronomy very much in this article, I guess I am beginning to take it for granted a little, but I spent many enjoyable hours observing with friends and on my own over the ten days.
This was the first time we had stayed in our own house and it is extremely comfortable and a great base from which to explore the local area as well as enjoy the skies. It's a small oasis of modern comfort in the unspoiled countryside.
We have let the house to a friend for three months while his house is completed but it will be available for rent early in 2006.
Neil Parker January 2006